Constitution Day 2013 was marked on the Tusculum College campus with a variety of activities, including allowing students the opportunity to sign their "John Hancock" to an oversized version of the Constitution in the Niswonger Commons.
The replica signing was provided as part of Constitution Day activities at the college. Representatives from th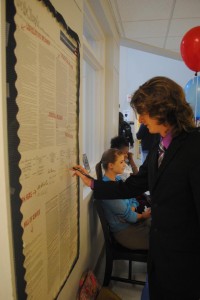 e Center for Civic Advancement handed out pocket Constitutions and assistance was provided in helping students register to vote.
Additionally, resources and activities related to Constitution Day are currently available on the Tusculum College website at http://www.tusculum.edu/academics/constitution.html.
Resources include a direct link to the Constitution of the United States of America document, as well as resources for learning more about the Constitution and about Constitution Day.
In 1956, in order to encourage all Americans to learn more about the Constitution, Congress established Constitution Week, to begin each year on September 17, the date in 1787 when delegates to the Convention signed the Constitution. In 2004, September 17, officially became Constitution Day.