Professor Myron J. "Jack" Smith, Jr., has authored a new book, "The Fight for the Yazoo, August 1862-July 1864: Swamps, Forts and Fleets on Vicksburg's Northern Flank." This is the 85th volume published by the director of Tusculum College's Thomas J. Garland Library.
In early August 1862, Union and Confederate eyes turned to the Yazoo River, which formed the developing northern flank for the South's fortress at Vicksburg, Miss. For much of the next year, federal efforts to capture the citadel focused on that stream, but, guarded by stout defenses, swamps and motivated defenders, it could not be turned.
Finally, Union troops crossed the Mississippi River below, came up from the south and captured Vicksburg from the east. From July 1863 to August 1864, sporadic Confederate resistance necessitated continued federal attention. Charts/diagrams for the work were provided by the historian/naval architect David Meagher while the cover art features a contemporary watercolor of one of the involved Union gunboats.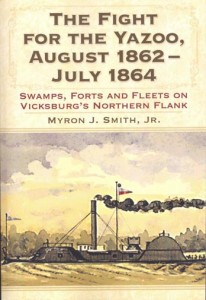 Smith's latest volume is the sixth in a series of related works from the same publisher.
The first was "Le Roy Fitch: The Civil War Career of a Union River Boat Commander." It was published by in 2007 by McFarland & Company, which is located in Jefferson, N.C. and publishes more than 400 books a year on all subjects.
The second volume in the series was Smith's 2008 "The Timberclads in the Civil War: The Lexington, Conestoga and Tyler on the Western Waters." It was followed in 2010 by two additional works, "Tinclads in the Civil War: Union Light-Draught Gunboat Operations on Western Waters, 1862-1865" and "The USS Carondelet: A Civil War Ironclad on Western Waters." A fifth volume, "The CSS Arkansas: A Confederate Ironclad on Western Waters," was published last year. Smith's next work, "The Civil War on Western Waters: A Biographical Directory," is scheduled for publication in 2014.
Smith's first book, a literature review of Civil War navies, was published in 1972. In the 41 years since his titles have covered a variety of other subjects, including examinations of popular fiction (spy novels, action and sea fiction); international conflicts, espionage, terrorism and political-media history (World War II, Vietnam, tv network news); community and college histories (Huntington, Ind.; Salem College, Tusculum College); airlines and logistics; and sports (baseball, football, equestrian studies).
During his work on those volumes, a number of notable individuals have generously contributed forewords, commentary, craft notes and editorial support, including three U.S. presidents (Nixon, Reagan, Clinton), reporters (John Chancellor, Richard C. Hottelet), generals and admirals (Mark Clark, Pete Quesada, Elmo Zumwalt), sports heroes (Roy Campanella, Tommy Lasorda, Tom Osborne, Bernie Kosar), historians (Bruce Catton, Cornelius Ryan, Charles McDonald, Lyman Kirkpatrick, John Erickson), and novelists (Tom Clancy, Federick Forsyth, Jack Higgins, Clive Cussler, Stephen Coontz, Norman Mailer, Hammond Innes, F. Van Wyck Mason, and Alexander Kent). 
A copy of his 2003 "The Airline Encyclopedia," covering 3,000 pages, was donated to the Greeneville-Greene County Public Library in honor of local surgeon Dr. Stephen Flohr. In 2006, Smith was the first Greene Countian to publish an e-book.
In 1994, Smith co-authored "Glimpses of Tusculum" with Tusculum professor emeritus Dr. Donal Sexton. Two years later, he introduced Internet-based library databases and services for Tusculum College students and faculty. Recipient of various awards and citations, Smith, who also lectures widely on his Civil War interest, remains the only American to have received The Richard Frank historical prize from the German government.  
On Tuesday, Jan. 15, Smith presented an illustrated talk before the Greeneville Noon Exchange Club at Cumberland Presbyterian Church. Thirty people were in attendance to hear about "General Morgan's Bad Day."
Smith said, "Although challenging, writing can be rewarding fun. You often meet the most interesting people in the process."
The price for "The Fight for the Yazoo" is $55. It can be ordered from McFarland & Company, Inc., Box 611, Jefferson, N.C. 28640. It also is available at the Tusculum College bookstore and on Amazon.com.