Veterans Day was marked at Tusculum College with a special service that included special readings by student, faculty and staff veterans and a performance by the Tusculum College Band.
A display of American flags marked the area in front of the Niswonger Commons for the service. Tim Ford, a member of the Facilities Management staff and a veteran of the U.S. Marines, displayed the flags as well as lead the assembled group in the Pledge of Allegiance.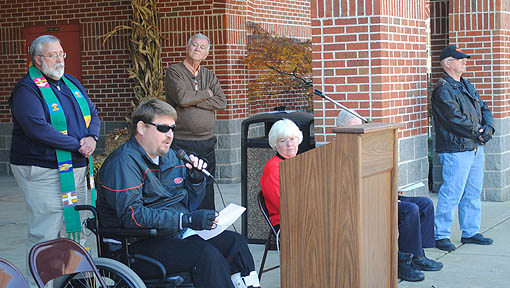 Veteran and military-related texts were read by veterans representing members of the Tusculum community. David Quesenberry, above, a student who is a veteran of the U.S. Navy who served on the U.S.S. Greeneville submarine, read General Dwight D. Eisenhower's D-Day Invasion message.
Dr. Melanie Narkawicz, professor of research who served in the U.S. Army, read a history of Veterans Day. Wayne Murphy, director of campus safety who served in the U.S. Air Force and Navy, read Abraham Lincoln's letter to Mrs. Bixby, who lost five sons in the Civil War. Bob King, a community member who is a veteran of the Navy, read the poem, "They Did Their Share" by Joan Fuchs.  Mark Stokes, director of religious life and church and community relations at Tusculum, read scripture from John 15. Stokes, who served in the U.S. Marines, organized the service.
Members of the Tusculum College Band, below, performed the National Anthem and a musical salute to the military services, which included the official songs of each branch of the military.