LeAnn Hughes has been named vice president of enrollment management and marketing at Tusculum College, officials announced today. Hughes has held a similar position for the past two years at King University.
Hughes comes to Tusculum College with experience in marketing, fundraising, strategic planning and working with students through the enrollment process. She will take over responsibilities at Tusculum College on April 7.
"We are very pleased that LeAnn Hughes will be joining us at Tusculum College," said Moody. "Her experience and success in enrollment management and marketing will support continuing success at the college in recruiting both adult and traditional age students. She will also bring expertise to our rejuvenated branding and marketing efforts in both traditional and emerging venues."
Hughes began her career at King University in July 2002 in the position of director of communications. She served as vice president of marketing and development and most recently as King's vice president of marketing and enrollment management, where she was heavily engaged in efforts to expand the Graduate & Professional Studies and online programs.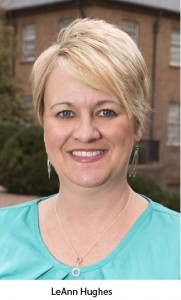 She was also instrumental in King's 14 years of record enrollment. At King she served as a member of the president's five-member cabinet, responsible for the strategic visioning process of the college and implementing policies and procedures.
"I am delighted to be a part of Tusculum College and look forward to applying my skills and background to such an exceptional institution," said Hughes. "It is an honor to have been selected for the position, and I anticipate a mutually exciting and rewarding opportunity as we work to reach Tusculum's enrollment and marketing strategic goals."
Hughes has previously served as the director of marketing and sports development for the Kingsport Area Chamber of Commerce; marketing and events director for the Downtown Kingsport Association and computer instructor/publications director for Bailey Computing Technologies, Inc. She was a member of the 2001-2002 Leadership Kingsport Class.
Hughes earned a Bachelor of Arts degree in English from the University of Tennessee in Knoxville, where she was initiated into Phi Beta Kappa and a Master of Arts degree in English from East Tennessee State University in Johnson City, Tenn., graduating in the top two percent of her class.
In addition, she has earned a certificate in fundraising management from the Center on Philanthropy at Indiana University.