Tusculum College Professor Emeritus Myron J. "Jack" Smith, Jr., has authored a new book, "Joseph Brown and His Civil War Ironclads: The USS Chillicothe, Indianola and Tuscumbia." This is the 89th volume published by the Newmansville-area resident who was director of Thomas J. Garland Library from 1990-2015.
A Scottish immigrant to Illinois, Joseph Brown made his pre–Civil War fortune as a miller and steamboat captain who dabbled in riverboat design and the politics of small towns. When war erupted, he used his connections (including a friendship with Abraham Lincoln) to obtain contracts to build three ironclad gunboats for the U.S. War Department—the Chillicothe, Indianola and Tuscumbia. Often described as failures, these vessels were active in some of the most ferocious river fighting of the 1863 Vicksburg campaign, including the Yazoo Pass Expedition of March and the passage of the citadel's batteries and the Battle of Grand Gulf in April.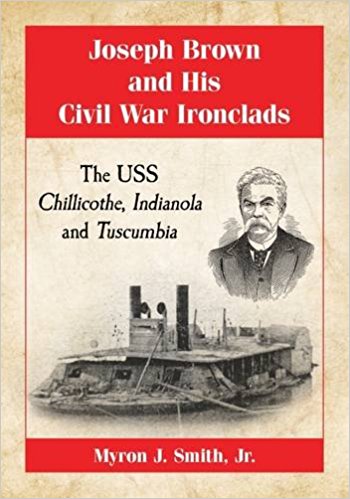 Despite the spotty combat records of his ironclads, Brown was also able to obtain a near monopoly at Cincinnati on the modification at of small sternwheel steamboats into light draught gunboats, handling 55 of the 66 "tinclads" acquired by the USN. "Captain Joe" returned to Missouri and in 1866 was commodore of the steamboat fleet that conveyed President Andrew Johnson from Alton, Illinois, to St. Louis during the western phase of the "swing around the circle."
Brown was not one of those Civil War participants who just faded away, but, instead, took an active role in the commercial, civic, economic, and social life of his community, gathering even further laurels as a businessman, politician and raconteur.  A mayor of a small town before the great conflict, he served two terms as mayor of the country's fourth largest city in the early 1870s and his administration was regarded as both colorful and successful.
Brown supported public health and education, opening a special woman's health facility and  what became the St. Louis Public Library, and, as a fanatical opera fan, gloried in the arts. During the Panic of 1873, he used his own fortune to personally guarantee script issued by the city ("Brownbacks") and organized a soup kitchen that fed 1,200 destitute people every day in cold weather.
He also pushed construction of the famous Eads Bridge over the Mississippi, opened in 1874. Today, one of the most successful Civil War contractors and Reconstruction-era mayors is unknown  and, like his brother George T., the man who served Johnson his impeachment notice from Congress,  no photograph of him exists. This book covers his life and career, as well as the construction and operational histories of his controversial trio of large warships.
The historian's latest volume is the eighth in a series of related works from the same publisher and his ninth Civil War title overall. It is available from McFarland & Company, which is located in Jefferson, N.C. and publishes more than 400 books a year on all subjects. It may also be purchased from Amazon or the Tusculum College bookstore.
Smith is currently penning "Civil War Ironclad Captains: A Biographical Directory." Modeled on his award-winning 2015 title "Civil War Biographies from the Western Waters," the work will profile 150 of the commissioned and volunteer naval officers who skippered monitors and other ironclads warships on the coasts and inland waterways during the conflict.
Prior to his retirement, Smith was a professional librarian for 50 years. In 1993, he received pro football's Nelson Ross Award and in 2006, was the first Greene Countian to publish an e-book. He is the only American to have received the Richard Franck Preis for historical bibliography from the German Government.