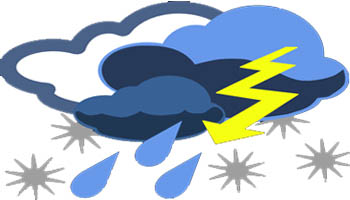 The possibility of severe weather last week was a reminder to the entire Tusculum College community about the importance of staying prepared for changing weather conditions and to have access to communications from the College about possible schedule changes.
While this winter has been relatively mild in East Tennessee, spring does bring the chance of severe thunderstorms and tornadoes to this region. To help ensure safety during a weather event, it is important for all students and all members of the Tusculum community to be aware of how cancellation or dismissal of classes and other schedule changes are communicated, make sure they have access to one of those lines of communication  and to heed any alerts to take shelter in case of severe weather.
Specific schedule changes will be communicated through the Tusculum College Pioneer Alert System, the Tusculum College website and social media (Facebook and Twitter) and local media outlets (radio and television stations in Greeneville, Morristown, Johnson City and Knoxville) as soon as possible.
Tusculum students, faculty and staff can sign up for the Pioneer Alert system, which sends messages through text and email. In the case of severe weather, messages are sent through this system about the forecast. as well as ad a reminder of the location of the emergency shelter on campus, which is the basement area underneath the Pioneer Arena in the Niswonger Commons.   Messages also provide instructions for sheltering in place if the emergency shelter cannot be reached safely.