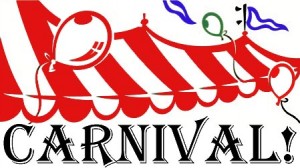 If you ever dreamed of being in the circus … now is your chance!
Theatre-at-Tusculum is seeking not only actors, singers and dancers, but also jugglers, unicyclists, acrobats, clowns and stilt-walkers for its fall production of the Tony Award winning musical, "Carnival!"
One and all are invited to audition to be a part of the glitter, excitement, romance and magic of "Cirque de Paris." Director Marilyn duBrisk has gathered her gifted production staff together with guest artist Russ Crum, and plans to present another successful Theatre-at-Tusculum production to enchant the whole family on Nov. 4-6 and 11-13.
"Carnival!" requires a strong acting cast and able vocalists to bring the musical to life. Lead roles include Lili, an orphaned girl seeking a job in the carnival; Paul, a handsome puppeteer with a tragic past; Marco the Magnificent, the flamboyant magician (to be played by Crum), and the Incomparable Roselie, his vivacious partner. Other roles include B. J. Schlegal, owner of the carnival; Jaquot, Paul's loyal partner; Grobert, a very nasty character, and a host of other carnival personalities and stars from roustabouts to exotic dancers, French clowns to Siamese twins.
Auditions for adults (high school age and above) are scheduled on Monday and Tuesday, Aug. 22-23. Registration will begin at 5 p.m. with auditions beginning at 6 p.m.
Children's auditions (first through eighth grade) will be Wednesday, Aug. 24. Registration will begin at 3:30 p.m. with auditions starting at 4 p.m.
Call backs will be at 6 p.m. on Thursday, Aug. 25, as needed.
On Friday, Aug. 26, there will be a special audition for friendly performing dogs and their handlers at 5 p.m. Leashes are mandatory.
Those who many need "props" to illustrate their talent are asked to bring them to the audition.
For further information, please call 423-798-1620 or email jhollowell@tusculum.edu.