A Tusculum College class presented a donation to the CHIPS (Change Is Possible) organization on Wednesday, April 6, following its studies and activities focusing on gender issues.
Students in Dr. Angela Keaton's "Theory and Practice of Citizenship" course hosted a Women's Fair on Monday and Tuesday, April 4 and 5, in the Niswonger Commons to provide information about these issues. As part of the Women's Fair, one group of students from the class hosted an unique bake sale to highlight the gender pay gap. The proceeds from the bake sale were donated to the CHIPS program, which is dedicated to helping victims of domestic abuse. Keaton is an assistant professor of history and director of the Honors Program at Tusculum.
To help illustrate differences between pay for men and women, the students sold baked goods at different prices, $1 to males and 75 cents to females. The packaging for the baked goods also contained information about gender pay issues.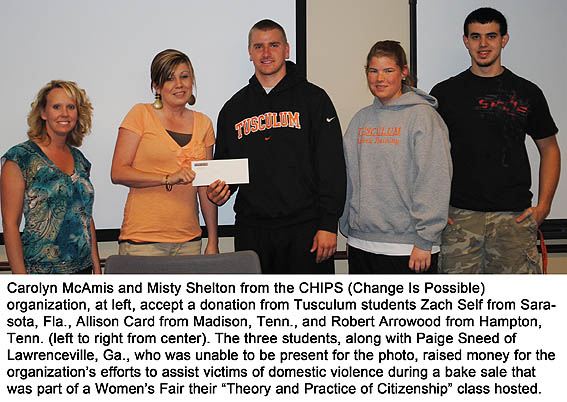 As part of the Women's Fair, another group of students collected a large box full of old wireless phones and accessories to donate to HopeLine, Verizon Wireless' program that works to prevent domestic violence and raise awareness about the issue. The HopeLine program has awarded more than $7.9 million in grants to domestic violence agencies and organizations throughout the country and has distributed more than 90,000 phones with the equivalent of more than 300 million minutes of free wireless service to victims of domestic violence.
A third group of students developed interactive activities for the Women's Fair to provide information about women's heart health.
Following the presentation of the donation, Carolyn McAmis, the executive director of CHIPS, talked to the students about the organization's service. The CHIPS organization provides a free, confidential and safe shelter to victims of domestic abuse in Carter, Greene and Unicoi counties. In addition, the organization provides individual and group counseling, case planning and referral to appropriate support services and criminal justice/legal advocacy for help through the legal process.
While CHIPS receives grant funds for operating expenses and revenue from its thrift store in Unicoi County, McAmis said, donations such as the one from the Tusculum students are also important to provide for special needs of those it serves.
She explained that some victims leave an abusive situation with only the clothes they are wearing, some have had to leave essential medications or have had a pair of glasses broken by their abuser, and CHIPS helps provide for those and similar needs.