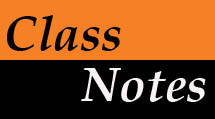 '40s
The late Clifton Earle Shotwell '47 was honored with the dedication of The Shotwell Cup for Excellence in Cross Country and The Shotwell Memorial Bench recently at the University of the South, Sewanee. The dedication was held on October 31, 2013. The cup and bench were dedicated by the undefeated 1953 and 1954 teams at the University of the South in memory
of their beloved coach, who they described as their  "motivation, inspiration, and friend".  He was cross country  coach and mathematics professor at Sewanee from 1949 – 1955.
'90s
Gayle Mrock '90 '94 has been promoted to vice president of program services at Holston United Methodist Home for Children. She began her career at Holston Home as a teacher in the Beacon School, Holston Home's on-campus school. She served previously as director of the school for two years.
'10s
Luis Zamora '13 of Chile has joined PricewaterhouseCoopers as a strategy and operations consultant. Luis will be part of a team that will provide leadership for the firm through a Latin American integration to be followed by the firm's global integration of consulting services in 2014. He will have the opportunity to rotate between departments and industries for extensive training during the next two years.
'40s
Harriet Hastings Mooradian '46 of Nassau, NY, passed away on February 27, 2013, following a brief illness. Mrs. Mooradian was a librarian at Sterling Winthrop in Rennselear, where she met her husband of 60 years, the late Dr. Aram Mooradian. She loved being outside and had a passion for gardening, which prompted her to become a founder and president of the Hudson Valley Daylily Society. She eventually had a beautiful daylily named after her – the Hemerocallis "Harriet Mooradian" daylily.
'90s
Dr. Paul W. "P.W." Holdridge '92 of Chattanooga, TN, passed away on September 7, 2013, after a lengthy illness. Dr. Holdridge earned his master's degree in organizational management at Tusculum before earning a doctorate at Union Institute and University. He was the retired owner of H-Group Design, LLC. He has also worked as a home designer, mortgage banker and business teacher at Chattanooga State Community College. Dr. Holdridge served in the U.S. Navy Reserve for six years. He was a member of the Alhambra Shrines Clown Unit, Jesters, and as a York and Scottish Rite Mason. Dr. Holdridge was a deacon, elder, church office trainer, a church trustee and Sunday school teacher at Brainerd Presbyterian Church.