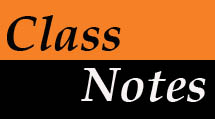 '90s
Dr. Candace Bellamy '91 of Austin, TX, has recorded her debut, full-length album, "In My Lane."  The album received a favorable review in the Austin Chronicle on June 14.  "Physician by day, musician by night, Candace Bellamy brings "Sweet Sweet Soul" to her debut full-length, In My Lane, a years-in-the-making affair that finds the Tennessee native leaving no vocal stone unturned," Chase Hoffberger states in his review. "Here's one singer who shouldn't have to stick to her day job." The review can be found at this site.
Brandon Locks '97 of Apollo Beach, FL, has been hired as baseball coach at East Bay High School in Tampa, FL. Locks has been coaching 19 years, the past nine seasons as an assistant at Hillsborough Community College. He also teaches English at East Bay.
'00s
Wendy Carpenter '01 of Mosheim, TN, has been named principal at Mosheim Elementary and Middle School. Carpenter has served for the past two years as assistant principal at the school. She began her teaching career in Sullivan County in Tennessee and then taught in Annapolis, MD, before moving back to Tennessee to be closer to family. After earning her master's degree at Tusculum, she has continued her education and has a education specialist degree from Lincoln Memorial University and plans to finish work toward a doctorate in education from that institution this summer. She and her husband, James, have two children, Madison and Ethan.
Steven Tunnell '03 of Greeneville, TN, has been named principal at West Greene High School. He has served as assistant principal for the past two years at the school, from which he is a graduate. He began his teaching career as a seventh grade social studies teacher at Mosheim School, during which time he earned his master's degree from Tusculum and an educational specialist degree from Lincoln Memorial University. He and his wife Heather '04 have a son, Grant.
Joe Laspada '04 of Brigdeton, NJ, is one of the teachers at Broad Street School whose quick actions are credited with saving the life of a fifth-grader who collapsed during gym class. The little girl was found to be suffering from a heart ailment, has made a full recovery and returned to school.
Beth Bryant Catron '07 has been named the volleyball coach at Chuckey-Doak High School. She will be teaching algebra and English. She has taught for the last three years at North Greene High School and coached volleyball at the high school for the past two years.
Brandon Rohr '10 has been named head men's basketball coach at West Greene High School. A business teacher at the high school, Rohr served as an assistant coach to the team last year.
Josh Bennett '11 '13 has been named the girl's basketball coach at West Greene High School. Bennett was named coach just a few weeks after earning his Master of Arts degree in Teaching at Tusculum. He played two seasons on the Pioneers men's basketball team and served last year as an assistant coach for the team.
Class of 2013 members continuing their education
A number of the members of the Class of 2013 will be continuing their education in a variety of programs. They include:
-         John-Thomas Carrino and Amber Dykes have been accepted into the PA (Physician's Assistant) program at Lincoln Memorial University.
-   Christopher Luke Harris was accepted into a Radiation Therapy program at Virginia Western Community College, Roanoke.
-    Billie Jennings has been accepted into the Master's in Fine Arts program at the University of Tennessee
-     Alisha Jones and William Kemper have been accepted to the DeBusk College of Osteopathic Medicine program at LMU
-          Justin Reed has been accepted into the Master's of Fine Arts in creative writing at Washington University in St. Louis, MO
-          Ben Sneyd has been accepted into the Master of Fine Arts program in creative writing at the University of Central Arkansas
-          Alex Wiedemann has been accepted to the graduate mathematics program at the University of South Carolina.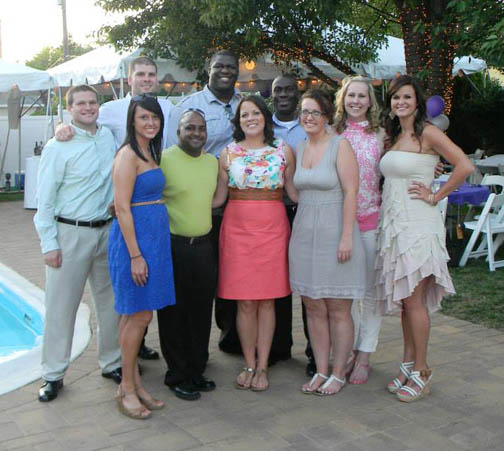 Mark Persaud '08 and Rachel Barnard '09 were married June 1, 2013 in Maryland at a service that was attended by a number of Tusculum alumni. Front row, from left, are Sonya Ramsey '08, Mark Persaud '08, Rachel Barnard Persaud '09 and Abby Swanger '08. Back row, from left, are Cody Greene '08, Glenn Vicary '10, Ronnie Harris '08, Nick Law '08, Erin Law '09 and Megan Hart '09.

'40s
Anna Quillen '46 of Portland, OR, passed away May 22, 2013. She was a retired secretary, having worked at the Episcopal Church Center in New York.
Clifton Earle Shotwell '47 of Fern Park, FL, passed away June 19, 2013. Mr. Shotwell had served as a professor of mathematics at the University of the South and at Tusculum College. He was also a systems engineer at IBM for many years. His survivors include brother-in-law and sister-in-law and Tusculum alumni Bill and Jane (Shanks) Pilloni '60 '59. His wife of almost 67 years, Jeannette Meldrum Shanks Shotwell '45, passed away last year. The two had met as Tusculum students. His brother-in-law John Shanks '54 also passed away two years ago.
'50s
Henry Geiger, Jr. '50 of Rogersville, TN, passed away May 20, 2013. Mr. Geiger was the president of C.H. Geiger and Sons Co. and was a farmer. A veteran, he served in the U.S. Army during the Korean Conflict. Mr. Geiger was a member of Rogersville Presbyterian Church.
James De Baun '57 of Conway, SC, passed away June 1, 2013. Mr. De Baun was a retired counselor, who has served at the Fishkill Correctional Facility. A native of New Jersey, Mr. De Baun served in the U.S. Army for several years. He enjoyed reading books about World Wars I and II and playing chess.
Lloyd E. "Butch" Schrack '58 of Niagara Falls, NY, passed away on May 30, 2013. A native of Niagara Falls, Mr. Schrack was vice president of Schrack Oil Company for 20 years and served as an employment specialist at Opportunities Unlimited of Niagara for 23 years. He was a member of the New York State Army National Guard as a M1 sharpshooter and gunner, and was honorably discharged in 1962. Mr. Schrack also continued his education, earning a master's degree in education in 1993 from Niagara University and also graduated from Simmons Mortuary School in 1982. He was a member of the First United Methodist Church in Niagara Falls, where he served as a certified lay minister and co-chairman of the trustees. He enjoyed giving communion to shut-ins, helped with church functions and was a member of the bell choir and men's group. He was past president of the Niagara Rocks and Mineral Club, belonged to the Masonic Lodge #1049 and was past president of the Niagara Oil Heat Association. He was a member of the LaSalle Yacht Club, the Niagara Club and the LaSalle Sportsman's Club. His hobbies included gardening, sailing, canoeing, trap shooting, kite flying and rocks and mineral collecting. For the past 50 years, he has spent his summers in East Sebago Lake, ME.
Ben Thompson '58 of Afton, TN, passed away June 21, 2013, following a two-year battle with cancer. Mr. Thompson was a lifelong farmer and enjoyed working his land. He was retired from the U.S. Department of Agriculture, working as County Executive Director of the Agriculture Stabilization Conservation Service before being appointed State Executive Director. Mr. Thompson also served for many years on the Greene County Election Commission and the Greene County Board of Education. He later worked as director with the Burley Stabilization Corp. Mr. Thompson was a member of the Mount Zion United Methodist Church and was known as a helpful neighbor, who touched many lives. His survivors include son and Tusculum alumnus Bandy Thompson '05 and sister and Tusculum alumna Judy Thompson Philips '61.