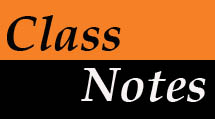 '60s
Dr. Ronald May '68 of  Plymouth, IN, announced his plan to retire as president of Ancilla College, effective June 2014, to the Ancilla College Board of Trustees during its May 2013 meeting.  Dr. May has served as president of Ancilla since 2006.  His retirement brings to a close an academic career which began after graduation from Tusculum with a degree in history and political science.  He taught in the public schools of Carter County, TN, and Arlington, VA, prior to moving into higher education.  He served as a faculty member at Indiana University, dean of Tusculum College, dean and vice president of Waycross College, vice president and dean of Eastern Shore Community College and president of Louisburg College prior to his service at Ancilla College.  Dr. May is a former board member and president of the Tuscululm College Alumni Association.  He also has been very active in community service in the various communities in which he has lived.  He and his wife Joan have three sons.  He is looking forward to his retirement so that he can play more golf, continue a variety of community service projects and spend time traveling with his wife.
'80s
Karma Woerner Minkewicz '80 of Austintown, OH, has retired after teaching for 31 years and now finds herself busier than ever. Her daughter Robyn will be a high school senior in the fall and her younger daughter Kathryn will be joining Robyn at high school as a freshman.
'90s
James T. "J.T." Vogt '90 of Maryville, TN, writes that his family is very excited and looking forward to spending more time at Tusculum in the years to come visiting his daughter, Samantha, who is entering Tusculum as a student in the fall of 2013 and will be a member of the Cross Country team. Additionally, J.T., who is a deputy program manager with the U.S. Forest Service's Inventory and Analysis Unit in Knoxville, was recently appointed as an adjunct professor of entomology at the University of Tennessee at Knoxville.
The Rev. Jonas Hayes '99 recently received Best Short Documentary at the Madrid International Film Festival as executive producer of the film, "Delta: 180: Changing Lives in the Mississippi Delta." Rev. Hayes, a Presbyterian pastor currently living in Overland Park, KS, was a co-founder of the Delta 180 program during his tenure at the First Presbyterian Church in Greenville, MS. The program is affiliated with the national 180 Degrees Program LLC, based in Salem, Oregon, founded by 180 Degree President Dean Renfrow, co-executive producer of the film. The Award was announced on July 6, 2013 in Madrid.  "Delta 180:Changing Lives in the Mississippi Delta" is a short documentary filmed in Greenville and Washington County, Mississippi in 2012.  It tells the story of the Delta 180 after-school program for youth operating in Greenvillewhich is changing the lives of students and adult participants in the program.  The program continues to operate and grow in Greenville. The film may be viewed on the Delta 180 website,  and more information about the Delta 180 program may be found there.  For more information on the national 180 Degrees Program, visit its website.
'00
Calvin Decker '00 of Morristown, TN, has been named principal at North Greene High School. Decker began his teaching career at Bulls Gap Elementary School, where he taught students in fourth through eighth grade. He later taught for nine years at Cherokee High School, where he was the boy's varsity basketball coach, and for five years at Morristown East High School. He served as assistant principal at East High School for six years and was principal last year of the Miller Boyd Alternative School in Hamblen County. He and his wife, Teresa, have two children, Lindsey and Leah.
Josh Wandell '01 of Elizabethon, TN, is fighting Lou Gehrig's Disease and a special 3K run/walk has been scheduled September 14 in his hometown. The "Race for Wandell," who is principal at East Side Elementary School in Elizabethton, began as an idea by several of the Elizabethton High School baseball players who wanted to show support for Wandell. He was an outstanding football and basketball for Elizabethton High School in the mid-1990s. Wandell started his teaching career at Happy Valley, where he coached middle school football. Since returning to his home system, he has touched the lives of countless students and is a popular figure at East Side and in the Elizabethton school system. As people have learned about his diagnosis, they have rallied around him. You can send best wishes to Wandell on the facebook site, "Race for Wandell." For more information about the race, contact Elizabethton High School baseball player Connor Brown on twitter @connortbrown23.
Thomas Ishii '03 writes that he is looking forward to attending the Nashville event on July 24. He is hoping that his wife, Barbie (Ricker) '04, will also be able to come with their 9-year-old son, 6-year-old daughter, and baby daughter, who was born on January 16 of this year.
Gregory Daniel Merrill '05 of Chattanooga, TN, writes that his time at Tusculum was "some of the best years of my education.  I miss working in the security office, and being a residential advisor for my junior and senior years.  Best things that came out of going to Tusculum were my wife, education, and friendships.  Thank you Tusculum. Shout out to Katherine Hall RA's Ross Lewis and Ken Francis, miss you guys."
Jeremiah Peterson '09 of Boston, MA, is working at Pricewaterhouse Cooper in Boston. He is also enrolled in the Yale School of Management MBA program.
Josh Davis '13 is now employed as a reading teacher at Soldiers Memorial Middle School in Tazewell, TN.
Samuel "Trey" Ricker III '13 of Greeneville, TN, has been appointed assistant vice president at Heritage Community Bank. In his new position, Ricker will be a lender and lead the fixed rate mortgage division at one of the bank's branches in Greeneville. He has seven years of banking experience that includes teller, customer service, training, compliance and CRA/Fair Lending Officer for Capital Bank. He and his wife, Jessica, a teacher at Tusculum View Elementary School, are active members of the First Church of God.

Adam Hall '06 of Franklin, TN, was married June 15, 2011 to Laura (Litzenberg) Hall.

Justin Jeffers '04 of Chuckey, TN, and his wife, Jennifer, celebrated the birth of a daughter, Addison Mae, on May 21, 2013.
Ryan Munson '04 of Ogdon, UT, and his wife, Courtney, are welcoming their second child, Jack Ryan, born on June 13, 2013. He was 7 lbs. and 12 oz. and 21-inches long.
Kari (Karns) Perin '05 and Timothy Perin '06 of Port Clinton, OH, celebrated the birth of their second child, Luke James Perin, on Easter Sunday, March 21, 2013. He was 7 lbs. and 1 oz. and 20 inches long. Baby Luke has strawberry blonde hair and blue eyes.

'40s
Joy Dauerty Seher '43 of Greeneville, TN, passed away on June 29, 2013. She attended Greeneville Cumberland Presbyterian Church and served as secretary of the President Andrew Johnson Museum and Library Association. She was a faithful volunteer for many years at the President Andrew Johnson Museum and Library. Mrs. Seher was also a member of the Eastside Garden Club and the Newcomer Club of Greeneville.
'50s
Clifford C. Anthes Jr. '57 of El Paso, TX, passed away July 11, 2012. Mr. Anthes was a veteran, having served a tour of duty in Korea. He was an Eagle Scout. After college, Anthes entered the mortgage banking field in El Paso. He then went into homebuilding and excelled in the first-time homebuyer market and land development. He worked in local politics and served in the Lions Club, Boy Scouts  of America and the El Paso Association of Homebuilders. He served as the chair of the El Paso International Airport Board in the 1980s. After retiring, he and his wife had homes in Washington and Texas. They also spent time in New Mexico, where they had a boat moored on Elephant Butte Lake.
Nayland Denis Clark '58 of Greeneville, TN, passed away on July 16, 2013. He and his wife, Elaine Russell Clark '60, had celebrated their 50th wedding anniversary on June 29. A Charles Oliver Gray Scholar at Tusculum, he graduated cum laude with a double major in mathematics and physics. Mr. Clark worked at Sperry-Farragut in Bristol, and McDonald-Douglas in North Carolina, before being hired to work at the Magnavox Company in Jefferson City and in Morristown. Sometime later, he was transferred to the Greeneville plant to work as quality control statistical analyst and engineer. During his early career, as computers were coming into use, he taught several classes at Magnavox on using the computer and quality control. Mr. Clark continued working at the Greeneville plant after the company became Philips Consumer Electronics until he retired. He was a lifelong member of Asbury United Methodist Church and worked in many phases of the church as head usher, a lay leader, Sunday School teacher, member of the prayer chain, depositer, member and chairman of the administrative board and member and chairman of the board of trustees during the pastorate of Brent Hall. He, along with his wife, was a teacher of the Sunday evening Methodist Youth Fellowship (MYF) for several years, and was a former member of the Cokesbury Sunday School Class. In 1973, Mr. Clark was a co-chairman of the Centennial Celebration for the church, which was a year-long celebration. Active in the community, he was a member of the Little Theatre of Greeneville, serving on the board of directors for many years, as well as stage acting, program design and set painting. In his younger years, he was an active member of the Jaycees, and held several offices. He was also a member and president of the Kiwanis Club of East Greene, before joining the Kiwanis Club of Greeneville in 1982. Soon after, he was elected secretary and remained in that position until 2010.  In 1983, he was instrumental in reviving the Kiwanis Kapers, and directed the first 13 shows. He worked on many projects throughout his membership and received many awards, including the Kripple K Award and Kiwanian of the Year. In 1996, the club honored him with a Kiwanis International George F. Hixson Fellow Award. In 2011, the Kiwanis Club honored Clark by dedicating the Kiwanis Kapers to him. He was an avid photographer and assisted the Greene County Heritage Trust with photographs of the homes that were open during the early Heritage Trust Tour of Homes.
'60s
Howard Doscher '60 of East Hanover, NJ, passed away on July 4, 2013. Mr. Doscher was retired after 30 years of service as a vice president with Chubb Corporation before becoming an insurance consultant. He served in the U.S. Army Reserve. Mr. Doscher was a past president and board member of the Deer Lake Club. Mr. Doscher was known for his love and sacrifice for his family.
'00s
Cindy Louise Frazier Mabry '02 of Morristown, TN, passed away June 18, 2013. She had taught seventh grade science at Jefferson Middle School for 18 years.