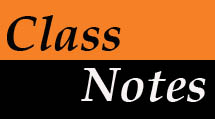 '50s
The Rev. Don Wright '53 of Canton, MI, is now pastor emeritus of The First Presbyterian Church of Dearborn, MI. He is still an active pastor, serving the Erin Presbyterian Church of Roseville, MI, and as parish associate at the Dearborn Church. Don and his wife Dorothy (Jaynes) '54 celebrated their 60th wedding anniversary on June 1, 2013. They have four adult children, nine grandchildren and two great-grandchildren.
'90s
Dr. Brian L. Pike '95, upon completion of his two-year tour at the Naval Medical Research Center in Maryland, was awarded the Navy and Marine Corps Commendation Medal. He and his wife, Alexandria, will be relocating in December to the Naval Medical Research Unit – Asia, located in Singapore.
'00s
Richelle Gregory '02 '09 of Maryville, TN, is now working in her new position as global talent manager for the global primary products division of the Alcoa Company. She is responsible for leading key talent management efforts across the division, leading development programs, preparing annual reviews and driving other key talent-related projects. She joined Alcoa in 1997 and has held positions of increasing human resources responsibility throughout her career.
The Rev. Collin Adams '05 of Pollocksville, NC, appeared on the September 23 episode of "Jeopardy." Although he did not win the game, he was in the lead as the three contestants went into the "Final Jeopardy" round. While at Tusculum, Adams was part of the Scholar's Bowl team, and he is now a pastor at Pollocksville Presbyterian Church.
'10s
David Talley '13 dropped by campus in August and visited with the Institutional Advancement staff.  He is currently living in Blountville and is working as a financial representative at Northwest Mutual in Johnson City.

Rustin Jones '06 and Casey Westmoreland were married on July 20, 2013. Following a honeymoon trip to Jamaica, the couple is living in Greeneville, TN. Rustin is a teacher at West Greene High School, where he is also the head boys and girls soccer coach. Casey is a student at Tusculum, who is scheduled to graduate in December.

'40s
Lt. Col. John H. Mack USAFR (ret.) '48 passed away on Febreuary 13, 2012, in Durham, NC.
'50s
Frank M. Brogden '50 of Kingsport, TN, passed away on September 6, 2013. At the time of his passing, Mr. Brogden was serving his Alma Mater as a Life Trustee. During his tenure on the College's Board of Trustees, he had served for vice-chair. A veteran, Mr. Brogden served in the U.S. Navy during 1945 and 1946. After graduating from Tusculum, he served as director of admissions for Tusculum. Mr. Brogden then entered the industrial world when he was hired by the Holston Defense Corporation in Kingsport and later began working with the Tennessee Eastman Company. Most of his 38 years with Eastman were spent in public relations and communications. At his retirement in 1990, he was an assistant vice president and director of communications and public affairs. Mr. Brogden had an active career in Kingsport community life. He served as president of the Kingsport Chamber of Commerce, and was elected a life member of the Chamber. Mr. Brogden was Santa for 20 years on the Chamber/CSX Railroad Santa Train and Parade and was chair for the 1986 Kingsport Fun Fest event. He was a former president and a current member of the Kingsport Kiwanis Club. Mr. Brogden was a member of the American Legion, and also a member of the City of Kingsport Board of Mayor and Aldermen for eight years. He was a director for the Upper East Tennessee Human Development Agency. Mr. Brogden chaired the former State Health Facilities Commission and was a member of the Tennessee Student Assistance Agency and of the State Water Quality Control Board. He was an active member of First Broad Street United Methodist Church and the Greer Memorial Sunday School Class, with a range of related responsibilities during his 57 years as a member. He was preceded in death by son Reid Brogden '82. His survivors include wife and Tusculum alumna Rolien (Brown) Brogden '51.
Mary Jane Evans Lintz '50 of Greeneville, TN, passed away September 12, 2013. Mrs. Lintz and her husband, Luther, operated the family farm with their sons. She was a member of Hunts Chapel United Methodist Church, the former Greene County Home Demonstration Club, the Greene County Democratic Women's Club, Daughters of the American Revolution (DAR) and Farm Bureau Women. She was also a supporter of the Caney Branch Volunteer Fire Department. Her survivors include sister-in-law and Tusculum alumna Betty Irene Lintz Yates '49.
'60s
Carl Cranston Davenport, Jr., '64 of Greeneville, TN, passed away August 31, 2013, after a battle with pancreatic cancer. Mr. Davenport and his wife of 50 years, Babara (Banks) '64, had owned and operated Tri-State Auto Glass in Jonesborough, TN, until their retirement in 2010. After retirement, they continued to enjoy their farm on Shiloh Road near campus. He and his wife were avid travelers and traveled extensively in the United States in their RV. Mr. Davenport, along with his daughter and granddaughter, had shown Tennessee Walking Horses for many years. He was a member and former elder of First Christian Church.
Mary Frank Bales '65 of Morristown, TN, passed away September 18, 2013. She was retired after serving many years as an associate professor of business at Walters State Community College. She was an avid volunteer for local organizations and enjoyed painting and photography.
'00s
Bobbie Renee Southerland '05 of Mosheim, TN, passed away September 18, 2013. She worked at TI Automotive. She loved traveling, especially to the beach.