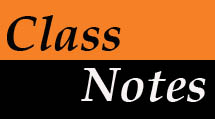 '40s
Val Moncada '41 of Asheville, NC, has received the highest award given by the Masonic Brotherhood – the 33rd Degree, at the Masonic Temple in Charlotte, N.C. He has served as a Mason for 65 years.
'70s
Susan Jacobs '74 of Dunfries, VA, retired from teaching in June 2013 and is enjoying traveling, visiting with friends, helping at her church, reading and quilting.
'10s
Micah Haney '10 of Union Grove, AL, has recently completed his MBA from Northcentral University.

'30s
Sarah Emma 'Ted' Speer '32 of Tusculum, TN, passed away January 29, 2014. Mrs. Speer, who was 104 years of age at her passing, was a retired teacher, having taught in the Greene County School System for more than 40 years. She was a Greene County Teacher of the Year and was a member of the Greene County Retired Teachers Association as long as her health permitted. Mrs. Speer loved her church and often contributed to it through music. She took excellent care of her handicapped husband, the late Rev. John W. Speer, without a complaint and was the epitome of a minister's wife. Her survivors include nieces and Tusculum alumni Betty Waddell Sams '56 and Linda Waddell Erwin '63.
'40s
Mildred Katherine Greenway Miller '44 of Kingsport, TN, passed away on December 18, 2013. She was a dietician with Tennessee Electric Copmany, working after graduating in the food services section and then returned to work after her children were grown as manager of the executive lunchroom at TEC. During her time at Tusculum, she met the love of her life, Pat Miller '43. After his service in the Marines in World War II, they married and enjoyed 68 years together. Mrs. Miller was active in her church, First Broad Street United Methodist Church, serving in many capacities through the years. She was a member of the sanctuary choir for more than 50 years. She also volunteered in various other organizations, including cooking for Meals on Wheels for more than 20 years. Mrs. Miller enjoyed entertaining, golf, travel and spending time with her family. Her passion was cooking and she never tired of trying recipes and giving out her creations.
Helen "Lynn" Allison Brooks '49 of Portsmouth, VA, passed away December 30, 2010. A native of New York, she met her husband Jay Brooks, Jr. '49 as a student at Tusculum and they married in 1950. Mrs. Brooks spent most of her time in enthusiastic service to her family and church. She was a dedicated member of First Church of Christ Scientist. Her favorite scripture was "God is love," and would encourage her to always "take good, find good and bring good back."
'50s
George Stager '50 of Fort Collins, CO, passed away January 13, 2014. A native of New Jersey, he served more than three years in the U.S. Navy, where he rose to a rating of Acting Chief Aviation Ordinanceman serving in patrol bomber squadrons on both sides of the Atlantic. After World War II, Mr. Stager attended Tusculum and graduated from Montclair State Teachers College and also earned his Master of Arts in Social Sciences from the school. He completed his non-thesis doctoral certification at New York University. His passion was people, teaching at junior and high schools in the South Orange-Mapledwood, N.J. school system. He was also an adjunct professor of geography and social sciences at New Jersey State Teachers College, Fairleigh Dickinson University, Seton Hall University and Kean College, where he was named Distinguished Service Adjunct Professor in 1974. In New Jersey, Mr. Stager was also extensively involved in coaching, having taught football at Dover High and three teams at Columbia High School. He led the girls' tennis team to two State Regional Championships and a State Final in 1983 and the Coed Bowling team to the State Tournament twice. He also coached the Coed Fencing team. Retiring in 1989, he and his wife moved to Fort Collins and his wife died shortly thereafter. Mr. Stager continued to be active in golfing, Golden K Kiwanis and the Poudre School District Advisory Board. He was especially appreciative of the opportunity to help name Fossil Ridge High School. Mr. Stager also traveled extensively, enjoying a wide circle of friends.
Charlotte Easterly Burns '56 of Greeneville, TN, passed away January 2, 2014. Mrs. Burns was a retired school teacher. She was well thought of by her students and their inclusion of her in activities and calling or visiting her often kept her going in her later years. Known as a strong Christian lady, she was a member of Hunt's Chapel United Methodist Church. Her survivors include her grandson and Tusculum alumnus Justin Burns '03.
'70s
Larry Eugene Harrison '75 of Limestone, TN, passed away January 16, 2014. Mr. Harrison was retired from United American Insurance Company. He was a lifetime member of Limestone United Methodist Church.