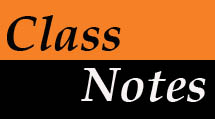 '70s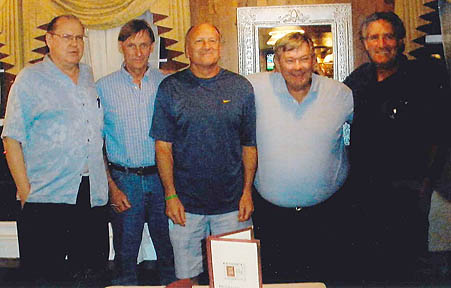 A mini-1970s reunion in August 2013 at the Dunellen Hotel Restaurant in Dunellen, N.J. From left are Larry Pinkiewicz '75, Tom McCann '75, Fred Defazio '75, George Ryan '75 and Al Lombardi '76.
'00s
Rev. Blake S. Montgomery '05 of Rogersville, TN, is now pastor at Sneedville First Baptist Church in Sneedville, TN.
'10s
Vinton Copeland '13 of LaGrange, GA, became a licensed minister in December. Vinton is a student in the Master of Divinity program at Mercer University.

'50s
Joan Faulkner Weesner '51 of Morristown, TN, passed away February 3, 2014, after a valiant battle with cancer. A faithful supporter of her Alma Mater, Mrs. Weesner was serving on the Morristown President's Advisory Council of the College at the time of her passing. She was an enthusiastic ambassador for Tusculum College, volunteering as an alumni representative at campus events as well as attending numerous College events. Mrs. Weesner met her late husband, Murrell Weesner '50, during the freshman picnic during her first days on the Tusculum campus. She and her husband attended Homecomings almost every year after their graduation until his passing in 2011, and she continued that tradition, having attended many of the Homecoming 2103 events. She was a charter member of the Tusculum Sports Hall of Fame, a 1990 recipient of the Pioneer Award and a 1997 recipient of the Sports Benefactor Award. A native of Pennsylvania, Mrs. Weesner made Morristown her home after her marriage, and she and her husband quickly began their lifelong support of the city's charitable, civic and educational endeavors. The Weesners were included on the reservation lists of nearly every community fundraiser, musical concert and theatrical performance for more than 50 years. The couple was named Mr. and Mrs. Morristown in 2009 by decree of the City Council and the mayor. As a young woman, she was true Pioneer in the Morristown community. She co-founded that community's first public daycare in the 1960s and began her teaching career in the Morristown School System in the 1950s as a sixth grade teacher and the coach of the male tennis team at Morristown High School. For several years in the 1970s, she worked with Morristown City Schools Title I Kindergarten program, organizing the first public kindergarten in the system. Mrs. Weesner later became the lead teacher for the Lakeway Educational Cooperative and the Clinch-Powell Educational Cooperative, coordinated the Title XX program with the Morristown City Schools and taught three- and four-year-olds in Hamblen and Jefferson counties. Mrs. Weesner also taught in the Morristown Adult Basic Education Program and served as a substitute teacher at all levels in the Hamblen County School System. In the '80s and early '90s, she worked as a junior social counselor in the foster care and adoption unit of the East Tennessee Human Resource Agency. Mrs. Weesner was also instrumental in the founding of the Friends of Hospice Serenity House, a home-like facility where hospice care is available 24 hours a day. She served on a number of charitable boards including ALPS Adult Day Services, the Rose Service Guild, the Red Cross and Friends of Hospice of the Lakeway Area. She supported and performed with the Morristown Theatre Guild, Encore Theatrical Company and in Walters State Community College productions. Mrs. Weesner was also a member of several community choirs and volunteered with numerous community organizations. Her survivors include daughters and Tusculum alumni Becky Jo Weesner Moles '79, Mary Ellen Weesner Horner '82 and Winnie Weesner Seals '90 and son-in-law Kirk Horner '80.
'80s
Albert Malyso '87 of Saddle Brook, N.J., formerly of Garfield, N.J., passed away on January 29, 2014. Mr. Malyso had retired three years ago as a guidance counselor for the Garfield Board of Education.
Douglas P. Slizewski '87 of Monticello, FL, passed away on October 9, 2013. Mr. Slizewski had worked for Pitney Bowes and the General Electric Foundation.
Joe K. Standifer '87 of Morristown, TN, passed away on November 11, 2012. Mr. Standifer worked for the Tennessee Valley Authority. He enjoyed muscle car restoration, auto racing and golf.
Faculty
Dr. Theran Mugleston of Dandridge, TN, passed away on January 30, 2014. Dr. Mugleston had taught management courses in the Graduate and Professional Studies degree programs since 2002. He was a veteran of the U.S. Air Force and the Vietnam War. In addition to Tusculum, he had taught at several other colleges of higher education. Dr. Mugleston was known for his love of God, his family, his church and the students that were under his tutor.