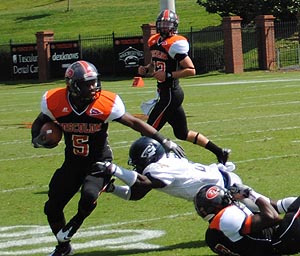 The Tusculum College football team's September 8 game will be televised on the CSS cable channel in the Southeast.
The kickoff time for the September 8 football game between Tusculum College and the University of West Georgia has been moved to 3:30 p.m. (EST) to accommodate television.  The third meeting ever between the Pioneers and the Wolves will be aired on CSS, which is available throughout the Southeast Region, including the Greeneville, Tenn. market (Comcast Channel 37).
The two teams were originally slated to play at 2 p.m. (EST) on Ra-Lin Field at University Stadium on the Carrollton, Ga. campus before contacted by CSS.
The televised game will be available to over six million homes as CSS is carried throughout the Southeast Region, including Tennessee and Georgia.
Tusculum defeated West Georgia 20-10 in last year's meeting at Pioneer Field on the Greeneville campus. This year's meeting will be TC's first trip to Carrollton since the series' inaugural meeting in 1996.
Several Tusculum football games have been televised in the past with the latest TV game coming in last year's road contest at North Greenville University.  Tusculum's 2009 home contest with Wingate University was the NCAA Division II National Game of the Week on CBS College Sports, while several TC games have been aired on CSS over the past decade.
The Pioneers will kickoff their season Sept. 1 with a road contest at Urbana University.  That game is set to begin at noon in Urbana, Ohio.