Tusculum College's Doak House Museum will be hosting a Fennel Harvest Party free to the community on Friday, Sept. 22.
Dollie Boyd, director of museums at Tusculum College, has an unusually large crop of fennel seeds that are currently ready for harvest. Because of this, a Fennel Harvest Party will be held on September 22, from 5 p.m. to 7 p.m. at the Doak House Museum.
The herb bed where the fennel grows is managed by volunteers from the East Side Garden Club.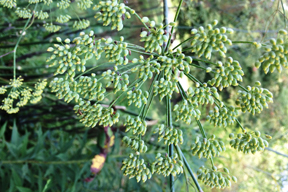 The party will include the making and serving of fennel tea and sample treats made with these savory little seeds, as well as an educational experience that allows potential herb lovers to learn the benefits of this easy-to-grow plant.
"People always ask me what can be done with fennel," said Dollie Boyd, "this is your chance to not only find out, but have some fun while you're at it." The event is free to the community and participants will be welcome to take home recipes and seeds.
Guests are also invited to stay for Pickin' at the Doaks, the monthly old-time music jam session beginning at 6 p.m. Call the Doak House Museum at 423-636-8554 for more information. You may also contact Dollie Boyd directly at dboyd@tusculum.edu.
By Sydney McCallister, freshman English and history major from Greeneville