The Doak House Museum is preparing to celebrate the holidays with a Christmas Open House on Dec. 6 and with its popular children's program, "Storytelling and Gingerbread" through Dec. 18.
An open house will be held at the museum on the Tusculum College campus from 10 a.m. to 2 p.m. on Saturday, Dec. 6. Free tours of the museum will be provided along with refreshments, crafts and games for the children, storytelling and specials in the museum's gift shop with proceeds going toward the museum's programs. A storyteller will perform at 11 a.m. and 1 p.m. and tours will offered throughout the event.
The museum, which is the 1830s home of Tusculum College co-founder the Rev. Samuel Witherspoon Doak, will be decorated in a charming 19th century style, as a home would be during that time period.
"Storytelling and Gingerbread," the Doak House Museum's most popular children's program, will be continuing through Dec. 18. Molly Mouse is the guide for the children as they experience holiday customs that the Doak family enjoyed in the 19th century. They learn about holiday foods from the period, gift giving and decorating customs as people lived them 200 years ago.
The program is open to public and private school groups as well as home schooled children. The museum is also able to offer Title I schools a discounted admission.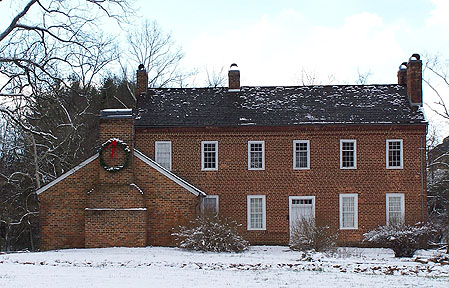 On Friday, Dec. 12, the program will be offered for home school children. One adult per family will be admitted free of charge. The program will begin at 1:30 p.m.
For more information about the Open House, contact Leah Walker at the museum at 423-636-8554 or lwalker@tusculum.edu.
To make a reservation for the "Storytelling and Gingerbread" program, please contact Dollie Boyd at 423-636-8554 or dboyd@tusculum.edu.
The Doak House Museum and the President Andrew Johnson Museum and Library are operated by the Department of Museum Program and Studies of Tusculum College. In addition to the museums, the department is responsible for the College Archives and offers one of the few undergraduate Museum Studies degree programs in the country. The two museums are also part of the National Historic District on the Tusculum College campus. Follow the museums on Facebook and Twitter to learn the latest news and upcoming events or visit its Web site at www.tusculum.edu/museums to learn more about the variety of programs offered at the museums.