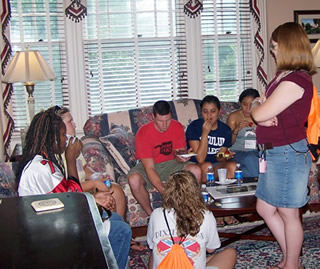 Classrooms are again full and residence halls buzzing with activity as the beginning of the fall 2006 semester arrives at Tusculum College.
The first day of classes for the college's 213th academic year is Aug. 21. Students are already back on campus as student athletes on the football team reported to campus on earlier this month, as well as student-athletes participating in other fall sports such as soccer, volleyball, cross country, golf, and tennis.
New students arrived on campus on Thursday, Aug. 17 as orientation began and returning students moved into residence halls on Aug. 19.
About 900 students are expected for the fall semester in the Residential College program, which serves primarily traditional-age college students attending day classes on campus.
Housing in the residence halls on campus is near capacity. Three of the houses on the perimeter of campus are also being used for student housing. Houses on campus have been used for student housing previously, but new this year are their themed designations. One house is being used as a religious life center, another a multicultural house, and the third, a women's issue house. The houses will be providing programming for students in their respective areas in addition to housing.
The new academic year also begins with two new faces in leadership positions on campus, several new faculty members, and an administrator in a new position.
Dr. Kim Estep began duties as provost and academic vice president in July, overseeing the college's entire academic program. The provost is the top academic officer for the College with responsibilities for both the Residential College program for traditional-age students and the Graduate and Professional Studies Program for working adults.
Dr. Estep comes to Tusculum from Thomas University in Thomasville, Ga., where she was vice president for academic affairs. Her academic experience also includes service at Friends University, Southern Christian University, Wesleyan College, Troy State University, Central Alabama Community College and Auburn University.
She holds Ph.D. and Master's degrees in history from Auburn, a Master's in education (adult education) from the University of Georgia, and a B.A. in history from Judson College.
Also joining the college community in July was Jacquelyn Elliott, vice president for admission and financial aid. The office oversees the Admission and Financial Aid offices with a focus on attracting and retaining students at the college.
Elliott comes to Tusculum from Mary Baldwin College where she was an adjunct faculty member and research associate within the Office of Institutional Research. She was simultaneously a doctoral student at George Washington University. She was a grant-sponsored research assistant at GWU and worked with the Executive Leadership in Academic Medicine program hosted by Drexel University.
Prior to beginning her doctoral studies, Elliott was dean of admissions and financial aid at Mary Baldwin College. A native of Long Beach, Calif., Elliott had resigned her position as associate vice president of institutional advancement at Bridgewater College after two years to focus on writing and defending her dissertation proposal.
She has a certified nurses associate degree from Powhatan High School and Richmond Memorial Hospital, a B.A. degree from Mary Baldwin and an M.E from James Madision University. She studied abroad three summers.
New faculty members joining the college are Amy Brooks and Thomas Stueber, assistant professors of athletic training; Dr. Davis Mertz, assistant professor of psychology; Dr. Sheila Morton, assistant professor of English; and Dr. Katherine Stone, assistant professor of mathematics. Visiting professors for the academic year include Jason Dixon, sociology; Dr. Tom Harlow, psychology; Dr. Angela Keaton, the Commons; and Dr. David Key, history.
A familiar face on campus is also starting the new academic year in with a new title – David McMahan, who is now the vice president for student affairs. McMahan was appointed to the post during the summer and oversees the Office of Student Affairs, Campus Safety, and campus housing. McMahan had served as dean of students since March 2005.