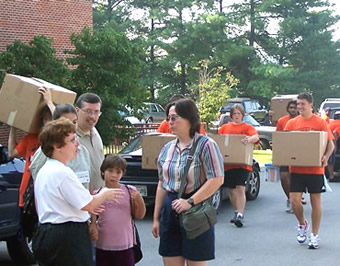 Members of Tusculum College faculty and staff help students move onto campus. Tusculum College faculty and staff members, along with fall sport student-athletes of the Greeneville-based college, helped new students move into residence halls on the campus on Aug. 17.
It is traditional at Tusculum College for staff and faculty members to lend a hand to incoming students as they move luggage, computers, microwave ovens, clothing and so on into their on-campus rooms, and this year student-athletes also helped.
Student housing on the main campus is near capacity, with about 900 students enrolled in the Residential College, as Tusculum calls its traditional undergraduate program.
In the photo, Assistant Professor of Athletic Training Jane Sandusky, left foreground, visits with the family of an incoming student while members of the Tusculum College soccer team, in the background, help move student possessions into residence hall rooms.