A community reception will be held on Thursday, May 7 in honor of Dr. Russell L. Nichols, who has served as interim president of Tusculum College for almost two years as the institution conducted a presidential search.
New president Dr. Nancy B. Moody assumed her new role as the College's first female president on April 27, and Dr. Nichols has remained at the College to help with the transition. He will be leaving the college at the end of May.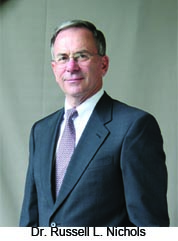 The drop-in reception will be held in the Chalmers Conference Center, located in the Niswonger Commons, from 5:30 p.m. until 7 p.m. and is open to anyone who would like to stop by and wish Dr. Nichols well in his future endeavors, said Susan D. Vance, interim vice president for Institutional Advancement.
"This is an opportunity for all of those who have met Dr. Nichols to thank him for his service to Tusculum College and to wish him well as he moves into another phase of his life and career," said Vance. "He has made a tremendous impact not only on students, faculty and staff, but with alumni, parents, friends, the community and generations of students yet to come."
Nichols has been with the college in an interim capacity since August 1, 2007, and has gained high praise from staff, faculty, students and community members for his guiding hand in keeping the College on course as the search for a new sitting president was conducted. He has focused his efforts on ensuring financial stability for the College, developing an international program and study-abroad opportunities for students and led the efforts to create the College's Center for Global Studies.
Dr. Nichols has been a focused leader who has guided the College's efforts in strategic planning and College-wide efforts to ensure a viable, dynamic institution for many generations to come, said Ken Bowman, chairman of the Tusculum College Board of Trustees.
"His efforts and leadership have gone a long way in unifying the College. His calming, supporting and contributing nature has provided a contagious sense of optimism about the future of Tusculum College, at a time when it needed it most. He has been continually engaged with students, staff, faculty and the community and has accomplished much working with and through the Cabinet."
The reception is open to the public, there is no fee for attending and no reservations are required. Anyone interested in honoring Dr. Nichols is encouraged to attend.  Those unable to attend may send well wishes to Dr. Russell Nichols, Tusculum College, P.O. Box 5048, Greeneville, TN 37744 or email to rnichols@tusculum.edu.
Dr. Moody was named the new president of the College during a called Tusculum College Board of Trustees meeting in February. Dr. Moody will be the first female president at Tennessee's oldest college.
For more information on the event, contact the Office of Institutional Advancement at 423-636-7303.