Lyrics on the Lawn 2017 Summer Concert Series continues Thursday, July 20, at 7 p.m.  The free concert will be held on the lawn of the Dickson-Williams Mansion in the heart of downtown Greeneville.  The concerts take place each Thursday evening in July.  The opening act will begin at 7 p.m. with intermission scheduled for 7:45 p.m. and the headliner takes the stage at 8 p.m.  On site event food vendors for this concert include, Creamy Cup, and Top Dog Hot Dog.  Food service is scheduled to start at 6 p.m. Bring your lawn chairs and/or blankets and select your spot to enjoy the evening. The event is smoke-free.  Please note pets are welcome; however, they must remain within the designated Fido Friendly area during the event.
This Thursday – July 20
Tusculum Jazz Band
The Tusculum Jazz Band has definitely "got that swing." Featuring a repertoire of swing and popular toe-tapping tunes, the Jazz Band has a growing reputation in Northeast Tennessee. The group has performed in not only concerts and activities on the Tusculum campus but also in the community. The jazz band has performed at events such as the Laughlin Foundation Derby Days, Music on the Square in Jonesborough and Main Street Greeneville's Christmas in Downtown celebration. This group is an integral part of the Tusculum Band program, which began in 2010 with the formation of a Pep Band. In addition the program has grown to include a Marching Band, Concert Band, Handbell Choir and various small ensembles.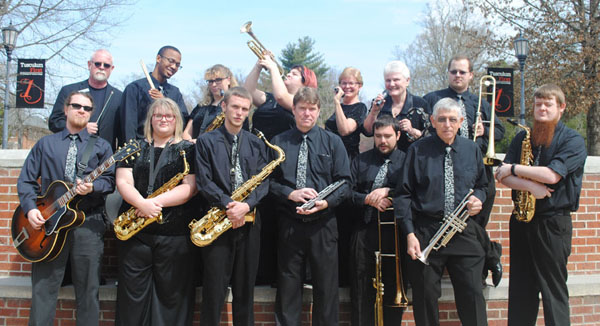 The Brother Boys
The Brother Boys have reunited to bring their tongue and groove harmony and infectious rhythm to the stage once again.  Ed Snodderly and Eugene Wolf began their brother-duet singing back in the 90s, releasing three critically acclaimed recordings; two for Sugar Hill, Plow, produced by Jerry Douglas and the self-produced Presley's Grocery and one for England's Zu-Zazz Records, Mulehead. Years before the term Americana was born, they called their music New Hillbilly, which sounded good at the time; a way to distinguish the blending of country, bluegrass and rockabilly. The Brother Boys have a knack for this old sound.  The emotions and country heartache tones match the landscape of East Tennessee, where they both grew up. The Brother Boys were recently featured on the Great Smoky Mountains Association release, On Top of Old Smoky; New Old-Time Smoky Mountain Music alongside Dolly Parton, Norman and Nancy Blake, Bryan Sutton, Jody Stecher and a host of the old-time musicians paying tribute to the music of the people who left the mountains in the 1930's so the National Park could be established.