GREENEVILLE – Anyone who wants to listen to quality Christian music and even participate is welcome at Tusculum University Friday evenings.
Tusculum is kicking off The Community Jam Session at TU Friday, Oct. 23, at 6 p.m. in the lobby of Pioneer Arena on the Greeneville campus. The weekly event, which will last until 8 p.m., will feature a variety of Christian music and begin with selections from a group of local musicians.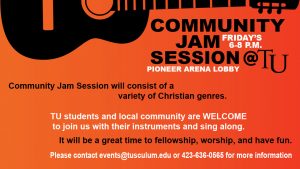 Guests are welcome to bring their own instruments, and once the music begins, they can join the initiating group or perform a song on their own. Those who would like to sing along with the musicians or perform a solo are invited to come forward as well. People also have the option at any time to sing along from their seats.
Soft drinks, water and popcorn will be available for purchase for $1 each. In addition, The Grind, which is Tusculum's new coffee kiosk in the lobby, and Chick-fil-A will be open.
Admission is free, but donations will be accepted. Participants must wear face coverings and observe physical distancing in all areas of campus.
"We encourage the community to join us for fellowship and an opportunity to hear excellent music in a caring Christian environment," said Nicole Rader, development officer and director of special events for Tusculum. "With vibrant fall colors appearing on our campus, now is a great time to visit Tusculum for a relaxing evening as people conclude their work week."
For more information about the jam session, please contact Rader at 423-636-0565. To learn more about the university, please visit www.tusculum.edu.