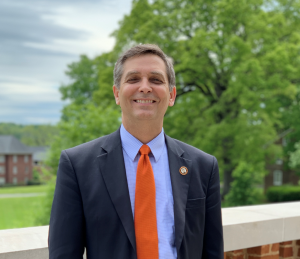 GREENEVILLE – A 30-year education professional with a demonstrated record of fundraising and enrollment growth success who helped lead the crisis response when a tornado damaged nearly 50 buildings at William Carey University has been unanimously selected as president of Tusculum University by the institution's Board of Trustees.
Dr. Scott Hummel will join the Tusculum family Monday, Feb. 17, and succeed Dr. Greg Nelson, Tusculum's acting president since August. Dr. Hummel comes to Tusculum as its 29th president after serving in high-level leadership roles at William Carey, his alma mater, since 2008. As executive vice president and provost since 2013, he has grown William Carey's academic enterprise and has closely advised the university's president.
For five years, he played a vital role in William Carey's financial success and community outreach as vice president for advancement and church relations. He helped raise millions of dollars for startup costs for new health care programs and endowed scholarships. Dr. Hummel managed William Carey's denominational relations activities, including a publication that provides sermon outlines for pastors.
"Dr. Hummel is an exceptional leader with a thorough understanding of virtually every aspect of a university's operation," said Tom Wennogle, chairman of Tusculum's Board of Trustees. "He has a track record of sustained achievement, has collaborated with his colleagues to attain impressive growth and has demonstrated remarkable skill when William Carey faced unprecedented challenges after the tornado.
"He is a dedicated community servant and man of faith who will build on Tusculum's tradition of civic engagement and our 225 years as a faith-based institution."
William Carey is a private Christian university affiliated with the Mississippi Baptist Convention and has roots dating to 1892. The university has 5,088 students on its Hattiesburg and Biloxi campuses in Mississippi and Baton Rouge in Louisiana, as well as its online presence.
Tusculum is the first higher education institution in Tennessee, the 28th oldest in the country and the oldest coeducational institution affiliated with the Presbyterian Church. The private university has more than 1,700 students on the main campus in Greeneville, at locations in Knoxville and Morristown and in online programs.
"Having visited Tusculum, observed its excellence and met with the university family, I am excited to become a Pioneer and partner with everyone to attain further success," Dr. Hummel said. "I am proud to follow in the footsteps of visionaries such as the Rev. Samuel Doak and the Rev. Hezekiah Balch and support our Judeo-Christian heritage. It will be a pleasure to work side by side with the faculty, staff, students and trustees and lead the way in all facets of education."
Dr. Hummel is a first-generation college student. He earned a Bachelor of Arts in biblical studies from William Carey in 1987. He received a Master of Divinity in biblical languages in 1991 and his doctorate in biblical backgrounds and archeology in 1996, with both degrees coming from Southwestern Baptist Theological Seminary in Fort Worth, Texas. He also studied at Brite Divinity School at Texas Christian University and, as a Rotary Ambassadorial Scholar, at the Hebrew University in Jerusalem.
Calling himself a professor at heart, Dr. Hummel began his education career as a home-based teacher with the Fort Worth Independent School District in 1989. He also was a special education math teacher and a science teacher before embarking on his higher education career.
He taught religion courses as an adjunct professor at Southwestern Baptist Theological Seminary in 1993, 1994 and 1998 and as a biblical studies professor at LeTourneau University from 1998-2008 before returning to William Carey. From 2004-2008, Dr. Hummel was chairman of LeTourneau's Department of Biblical Studies and Christian Ministries, for which he established a major and minor in Christian ministries and grew enrollment by 500 percent.
Dr. Hummel has served as a religion professor at William Carey, teaching courses about the Old Testament, biblical backgrounds, the Greco-Roman World and the Ancient Near East. He has also served as interim pastor for several Baptist churches and one Presbyterian church in Mississippi and Texas.
"Tusculum will benefit greatly from a president deeply connected to the classroom," Dr. Nelson said. "Dr. Hummel will keenly understand the needs of our students and faculty and will be in an excellent position to strengthen our academic and extracurricular programs. Tusculum has made an outstanding selection for its next president, and I will enthusiastically support him."
During his time at William Carey, the number of students has doubled, and the university has added several majors, such as criminal justice, dance, cross-cultural business management, Arabic studies and contemporary worship ministry. The university has started several medical programs, such as a college of osteopathic medicine, physical therapy and a pharmacy school and created eight doctoral programs.
Tusculum has established the College of Health Sciences with programs such as nursing, psychology and behavioral health and is working through the accreditation process to launch the Niswonger College of Optometry. The university has also received approval from the Southern Association of Colleges and Schools Commission on Colleges to offer as many as three doctoral degrees, with the first scheduled to be a Doctor of Optometry. In addition, Tusculum offers an extensive suite of undergraduate and graduate programs in its four other colleges.
William Carey has constructed 26 new buildings since 2008 and established the Biloxi campus after Hurricane Katrina destroyed the university's coastal campus in 2005.
The Hattiesburg campus was hit by a tornado Jan. 21, 2017, which impacted 98 percent of the grounds. Nearly 50 buildings were damaged, six more were destroyed and the campus sustained $110 million in damage. The Hattiesburg campus closed for a month, but William Carey finished its winter trimester and started spring trimester on time.
"The university's president entrusted me to help lead the crisis response team, and I was intimately involved in our complete recovery," Dr. Hummel said. "This experience taught me the necessity of prioritization. I led a collaborative team approach that resulted in better, more informed but timely decisions and a successful result."
Dr. Hummel has also directed the Carey Scholar Program, which promotes advanced academic pursuits, interdisciplinary study, critical thinking, independent research, community service and cultural enrichment. Moreover, he has led several mission trips to South America and travel courses to Europe and the Middle East.
In the community, Dr. Hummel has been a member of Rotary International since 2002 and was president of the Longview-Greggton Rotary Club from 2007-2008 and the Hattiesburg Rotary Club from 2013-2014. He has also served on the board of directors for numerous community organizations.
Dr. Hummel is married to his wife, Starr, a high school anatomy and physiology, earth science, biology and genetics teacher. She is originally from North Carolina and received her bachelor's degree from Appalachian State University. The Hummels have three daughters.
For more information about Tusculum, please visit www.tusculum.edu.