GREENEVILLE – Human resources professionals who are interested in learning more about how their companies can partner with Tusculum University are invited to the Greeneville campus for a special event.
The university will hold a breakfast from 8-10 a.m. Thursday, July 8, in the Brotherton Boardroom on the third floor of the Meen Center. Representatives of the Offices of Admission and Financial Aid will join other Tusculum family members to present information about the abundant undergraduate and graduate programs the university offers through corporate partnerships. Dr. Scott Hummel, Tusculum's president, will also be present to speak and greet attendees.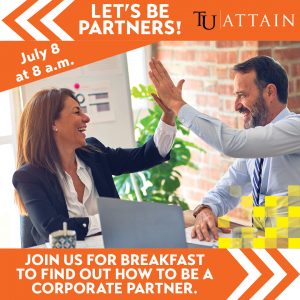 Tusculum has established partnerships with 17 companies, and others are pending. The agreement provides for a reduction in tuition for employees of these companies who pursue one of the several bachelor's and master's degrees available through the partnership.
Academic programs covered in a corporate partnership are:
"We are pleased to offer excellent academic programs that will help companies further develop their employees' skills," said Dr. Ramona Williams, Tusculum's vice president of enrollment management and financial aid. "With flexibility in course schedules and formats, we ensure employees can complete their degree requirements while still continuing to meet their work and family obligations. We welcome the opportunity during this breakfast to discuss building our relationships with area businesses even further."
To participate in the breakfast, please email Laura Battel, assistant director of adult and online studies, at lbattel@tusculum.edu.