GREENEVILLE – In recognition of their dedicated service to the nation, members of the U.S. military who are receiving military tuition assistance from the federal government will also receive support from Tusculum University.
The university has created the Military Tuition Scholarship, which will result in those individuals having no out-of-pocket expenses for their undergraduate studies. The scholarship will cover the cost of tuition that the federal government does not pay.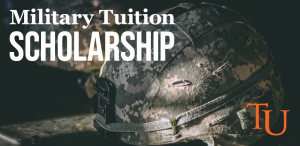 "We are honored to provide this scholarship as our way of supporting the men and women who are valiantly defending the United States and protecting our freedom," said Dr. Scott Hummel, Tusculum's president. "As they serve our nation, we welcome the opportunity to help them work toward their completing their associate or bachelor's degree. This will enable them to potentially advance in the military or help them establish their career in the civilian workforce when their service is complete."
Those who would be the most likely to qualify for the scholarship from Tusculum are active reserve personnel or anyone on active duty. Someone serving as an active reserve works full time at a reserve unit close to home, and a person on active duty serves full time while stationed anywhere in the country or around the globe.
Members of the military who take classes in person or online qualify for the scholarship, which will be available starting with the fall semester.
"This scholarship is a tremendous benefit for our service members, who deserve our gratitude for their sacrifice," said Dale Laney. Tusculum's director of veteran services. "It is an outstanding way for them to pursue their degree without having to worry about the expense associated with their tuition."
To learn more about this scholarship and the many other ways Tusculum assists enlisted personnel and veterans, please visit https://web.tusculum.edu/veterans and https://web.tusculum.edu/veterans/veteran-services-office. More information about the university is available at www.tusculum.edu.